When you move to a new home, the electricity in the new home can be easily managed. Moving house is often a very stressful time, and getting the electricity in your new home can be a last-minute job. In this article, we explain how to get electricity for your new home. electricity contract immediately - or at least almost.
Where to get a new electricity contract fast?
According to our research, the way to get an electricity contract in place immediately is to get a contract From Fortum tai Kotimaan Energialta. Kiireessä suosittelemme valitsemaan sopimukseksi joko toistaiseksi voimassa olevan Fortum Vacuum, tai määräaikaisen Kotimaan Energian Hyvä Diili 24kk -sopimuksen.
Fortum Standard on toistaiseksi voimassa oleva sähkösopimus – toisin sanoen voit tehdä electricity tendering ja vaihtaa tämän sopimuksen edullisempaan, kun pahin muuttokiire on ohi. Kotimaan Energian sopimuksella taas voit sitoa sähkön hinnan samaksi kahdeksi vuodeksi ja suojautua näin markkinahintojen muutoksilta.
How quickly can I get electricity?
Fortum Vakaalla saat parhaimmillaan sähköt uuteen kotiin jo saman päivän aikana. Kotimaan Energian sopimuksen voit saada voimaan seuraavalle päivälle.
Tässä vielä Fortum Vacuum the best of the best listed:
Electricity for the next working day at no extra charge
Same day electricity at an additional charge of 20€ when ordered during the morning
Weekend electricity at an extra charge of 20€ when ordered during Friday morning
Normal ordering Fortum order form via - just select the date you want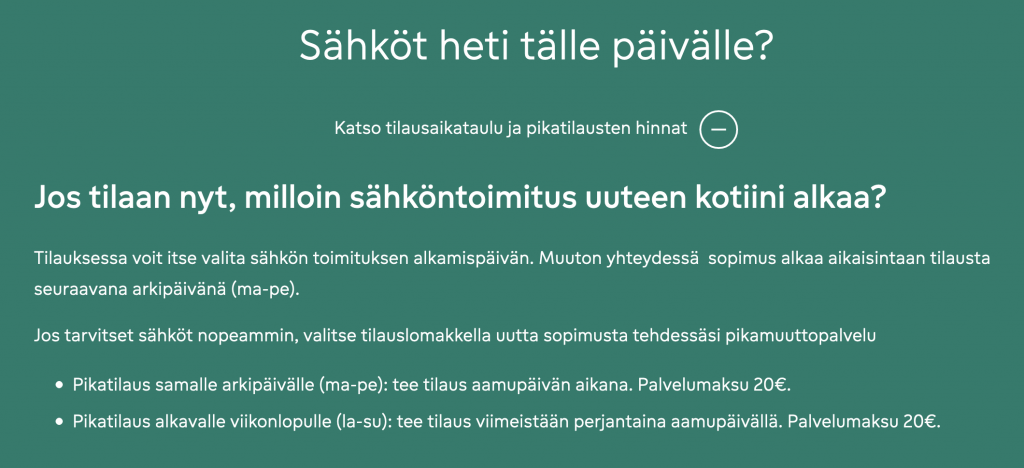 With most other electricity companies, an express order can cost as little as €50-200 - so Fortum's express order is quite affordable, and for just a small extra charge you can have your electricity delivered to your new address the same day. In addition, other electricity companies do not state on their websites exactly how quickly the new electricity contract will take effect - Fortum clearly promises electricity to the new home on the same day when the order is placed during the morning.
Tilaa Kotimaan Energia Hyvä Diili 24kk >
Other companies may also advise you to call customer service in urgent cases, but Fortum also offers a quick connection for online orders. In our own experience, for example, an electricity contract made online the night before on a weekday was valid the very next day.
Electricity immediately available regardless of location
No matter where you live, you can get electricity quickly in the same way. Your place of residence is irrelevant when buying a new electricity contract, as you can buy electricity in the same way from any electricity company in Finland. Only the transmission company depends on where you live.
If possible, notify the electricity company of the change in good time
To avoid urgent electricity needs, it is recommended that you notify your electricity company of your move two weeks before you move. This will usually allow you to transfer your contract to your new home without any problems.
What happens to the old electricity contract?
If you are in a hurry to get a new electricity contract for your new home, it is easy to wonder what will happen to the old one?
If your old electricity contract is for a fixed term, you can cancel it simply by notifying the electricity company. In this case, the electricity contract will be terminated when you move.
An open-ended contract usually has a 14-day notice period, so you may temporarily have to pay for two electricity contracts on top of each other. You can also terminate an open-ended electricity contract by notifying the electricity company.